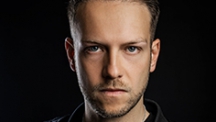 D-Ceptor is a DJ/producer from Germany hooked by the sound of hardcore music. He started his career in 2006 after some years of practicing his live mixing skills and spreading digital mixes through the internet.

In 2009 his first track was released on Important Records. Further releases on Rotterdam Records and UHM Records like "Our Game" (feat. Triax & Newstyler), "Ignored & Provoked" the official Earthquake 2011 anthem, "Here They Come" (feat. Triax) followed. Begin 2011 he started the event-concept "Hardcore Gangsters" together with Newstyler, underwhich these guys also hosted their own radio show on hardcoreradio.nl. Then in summer 2012 the first D-Ceptor solo EP "Drop Out" was released back on Important Records. More tracks followed on known labels like Adrenaline Tracks and Tritone.

End 2016 D-Ceptor founded with DEQUINOX his own music label / booking agency / event support.

Wherever he climbs on stage dancefloors burn! D-Ceptor is always on top of future music developments and unstoppable on his way reaching next levels!