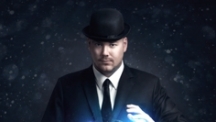 Dr. Peacock is the king of frenchcore!

With a signature sound and years of hard work, Iíve managed to find a place to call my own within the Frenchcore scene. In addition to performing on stage, I also organize events as well as give music production classes to new and upcoming talents.

I do what I do because I believe that everyone deserves to be grasped, shaped and thrilled like I have been by Frenchcore music.

My name is Dr. Peacock and I live Frenchcore.

"It is my mission to bring the Frenchcore scene to a new level, exposing it to as many people as I can, worldwide."

In order to accomplish my mission, I use my record label: Peacock Records to expose new sounds to the Frenchcore scene, keeping it fresh, exciting, underground and relevant.

My love for Frenchcore is more than just skin-deep and I will stop at nothing to achieve my goals.

Lets start the frenchcore revolution:
Frenchcore Worldwide!