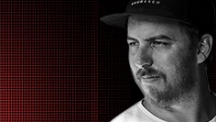 After discovering his passion in the late 90s, Julien Carbou aka The Clamps has improved his skills in several musical projects from Hard Techno to Drum and Bass. The Clamps starts growing up through the french label Kosen Production. Their friendship gave birth to great solo releases or collaborations with Redject or NickBee.

In 2015, thanks to his meeting with Prolix he signed on Trendkill Records and delivered three Eps whose most famous tracks are « Nerves », « Social Disorder » and « The Chase » ft. Tasha Baxter. Nothing seems to stop his rise with the support of Invisible, Eatbrain, Titan or Impact Music to name a few. He succeeds to grow on the Industrial Hardcore scene haled by Karnage Records, Heresy and PRSPCT.

The Clamps is coming with new weapons as his new 2018 album « Odyssey » proves it.
You can also find him performing as a DJ on the french and international scene, so be ready to reach future frontiers with The Clamps.