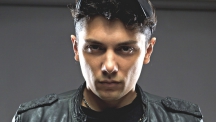 Filippo today known as Dj Mad Dog, is one of the main artists in the Hardcore scene,
He started his career at 16 having a huge popularity in Italy. In the summer of 2000
He decided to create a project for Traxtorm records with a new name: Dj Mad Dog.
From 2000 he produced many Hardcore hits like, "A Night Of Madness", "Agony",
"Rewind" and he worked with many legendary artists like: Nosferatu, Noize
Suppressor, Zatox and Evil Activities creating other big hits like "Lack of Existence"
or "Bassdrum Bitch.
His first appearance was on the on the 25th of January 1997, where Filippo
performed Live at Club Qube in Rome at just 17 years old.
From 1997 to 2001 he conducted his own radio show called "Hardcore Nation" at
Mondo Radio FM a point of reference for the electronic music scene of Rome.
In 2000 he released and signed his first single on Traxtorm Records called "The
Memory Disappear" which was the first huge success outside of his home country.
In 2002 he was booked for the first Hardcore Festival called Energy 2002 in
Caracas, Venezuela. More than 5,000 participants came to an open air location in a
forest near Los Anaucos. He was the first well-known hardcore artist to perform in
Venezuela.
2005 Dj Mad Dog performed at "Street Parade 2005" with more than 1,300,000
people.
In 2006 Filippo moved to The Netherlands where he participated at his first "A
Nightmare In Rotterdam" in the legendary venue called "Ahoy All" a huge venue with
a capacity to hold 25,000 people. For every edition there is a theme song and for
that year he was chosen to write the anthem called "Enter the Time Machine."
With the release of the single "Nasty" in 2008 Dj Mad Dog reached the number one
position on the "best seller" chart of Mid-Town an institution for the Hardcore
Movement.
In that same year he performed at Thunderdome which is a famous hardcore techno
event held in the Netherlands. It is organized by ID&T who are a leading
entertainment company for electronic music. · The event was held in the popular
Heineken Music Hall in Amsterdam.
In 2011 Dj Mad Dog released his first album " A Night Of Madness" with 12
remarkable tracks that are still played on the dance floor nowadays.
Every L.P reached the number one position on the best Hard Dance Charts.
Thanks to the hard work, dedication and huge success of that album in 2012 he did
his first world tour, performing in counties like, Chile, Mexico, Japan, Australia,
Russia and of course many European cities.
2013 was the year of the second album called "Rudeness - Hardcore Beyond Rules."
Thanks to this album he achieved one of the biggest goals for a Hardcore artist:
THRILLOGY. This event is held every year in the city of Utrecht in the Netherlands.
Fans gather at a local fairgrounds to party with the top 3 artists from three different
genres.
In 2014 he was booked for the biggest indoor Hard Dance event in the world called
Qlimax, located in Holland at the GelreDome a football stadium with sold out
audience of 30,000 people.
In 2015 he performed at the legendary Mysteryland today known as one of the
biggest electronic festivals in the Electronic scene.
Thanks to many productions Dj Mad Dog has been able to export his sound to many
continents like South America, Australia, Asia and Europe where he play almost 100
times each year.
He performed at all the best Hardcore festivals as headliner like: Mysteryland,
Qlimax, Thunderdome, Decibel, Dominator and many more.