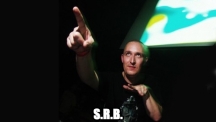 The terror producer SRB is the producer behind the greatest hits on This Is Terror records. He is the creator of Dutchcore, a form of hardcore that is hard, dark, fast and sometime funny. SRB is also the alter ego of Dione (Thunderdome/Megarave Records) and E-noid (DNA Records).

SRB played all over the world and is to be found at all major festivals where there is a big underground/speedcore/terror area. From Masters of Hardcore to the Hardshock festival you name it. The name S.R.B. means Solid Rocket Boosters and is a tribute to the artistic vj-team he used to be a part of. Erik (his real name) was one of the first terror producers with a triple album.

SRB celebrates his hardest birthday party of the year in December 2019 at the Music Dome Kerkrade Holland.